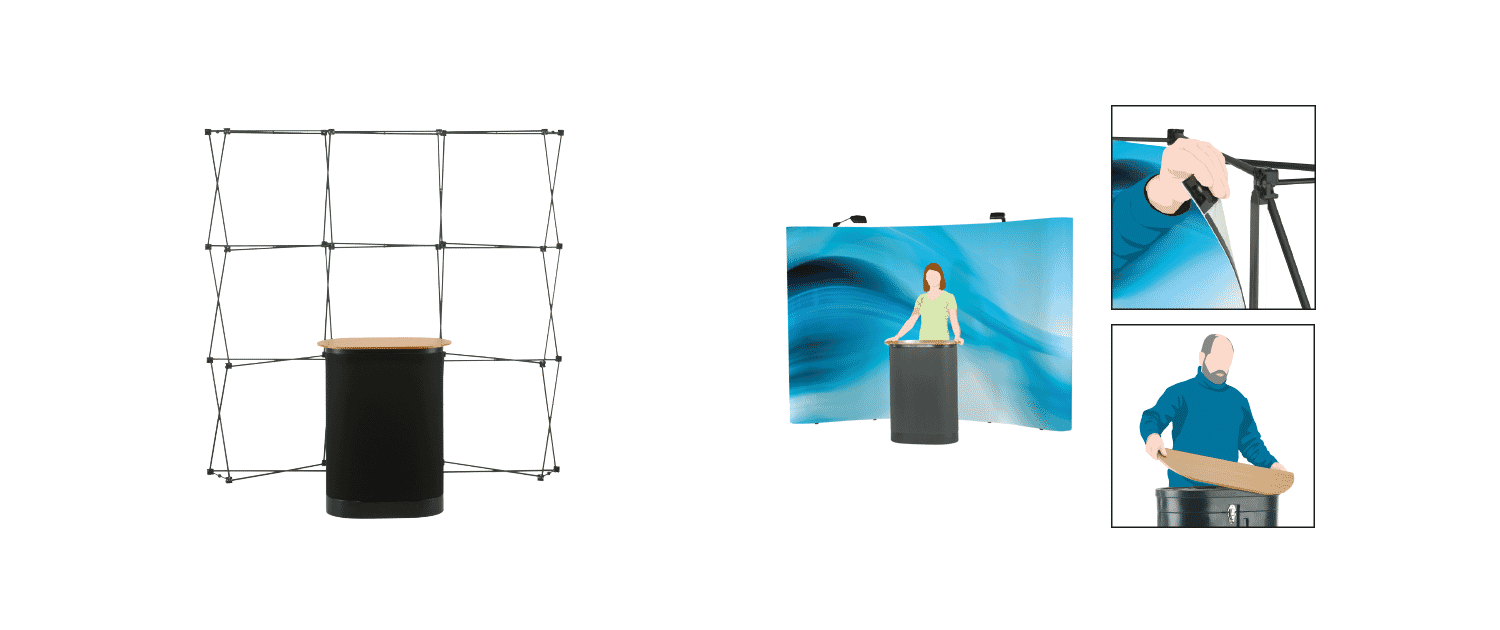 1
Magnetic arms lock system in place
2
Case converts to a lecturn with supplied fabric wrap and beech top
Advantage curved pop-up kit includes: Frame, Magnetic Bars, Hanging Kits, Beech Folding Top, Fabric Wrap for Case, Roll of Magnetic Tape and Durable Wheeled Case
Bundle available in 3×2, 3×3 and 3×4 curved configurations
Option to add either 150w Halogen or LED 21w Flood Lights x 2
Visible graphic height 2130mm
Hanging kits and additional mag bars available to dress rear of system – Order here
Just add graphics
Graphics Not Included
2 year warranty applies
>
Inside curve
2130 x 653mm
Outside curve
2130 x 757mm
'D' end
2130 x 653mm
Can the Advantage be used double sided?
Yes the Advantage system can be used on both sides, however additional mag bars, hangers and kickers will be required. Please see below for the amounts required depending upon size of system.
3×2 you will need x3 additional mag bars, x2 additional hangers, x2 additional kickers
3×3 you will need x6 additional mag bars, x3 additional hangers, x3 additional kickers
3×4 you will need x9 additional mag bars, x4 additional hangers, x4 additional kickers
For a 3×4 you will also need an additional small Comet Case to hold all the graphic panels.
What thickness of material can be used?
The material is usually 480 micron, however, it may vary depending on your brand, so you should contact your substrate supplier for recommendations
What are the dimensions of the case wrap?
The case wrap dimensions are 800mm x 1725mm
What are the measurements of the lectern top?
Length 740mm, width 546mm, thickness 12mm
How heavy is an advantage case?