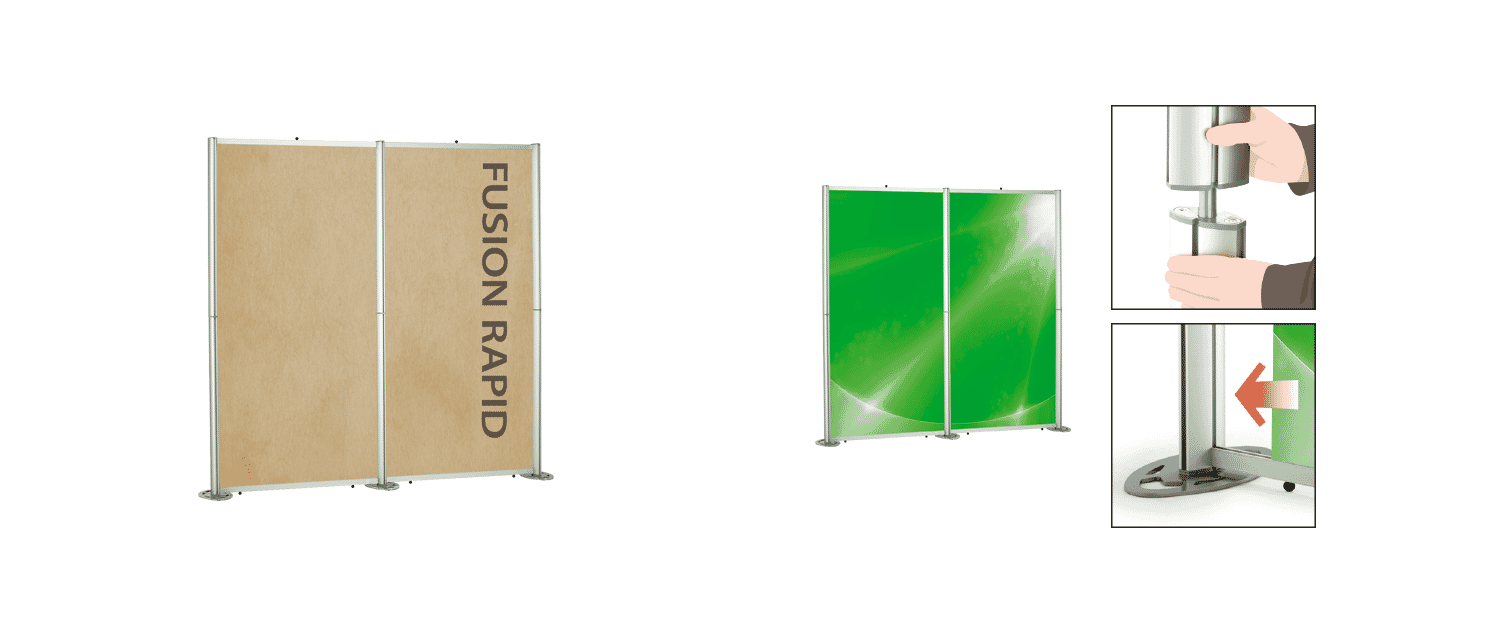 2
Can be used single or double sided
3
Rigid Panels 1944 x 950mm up to 8mm thick
Straight systems only, available as 1, 2 or 3 panel kits
Fusion Rapid is an anodised aluminium framed modular display system
Pole sections fit together effortlessly with our unique magnetic twist and lock
Suitable for use with rigid panels (up to 8mm thick)
Can be used single or double-sided
2000mm high posts can be disassembled into 1000mm sections
Each graphic panel is 1944 x 950mm
Rapid system is compatible with the Versa system
Carry case kits available (3 options)
Carry case kit comprises of wheeled rotationally moulded case, post bags, frame bags and base bags
Graphics Not Included
2 year warranty applies
Panel size
1944 x 950mm
(NB Any panel at 90 degrees to standard post orientation requires 10mm Deep by 15mm High notch in centre of panel edge)
Substrate thickness
8mm – max.
What is included with the Fusion Rapid?
Top and bottom Rapid straight frames, including light fittings, posts and bases.
Is the Fusion Rapid available in straight and curved?
No the Fusion Rapid is only available in straight, however if you would like a curved system please see the Fusion Versa
Is the Fusion Rapid compatible with any other system?
Yes the Fusion Rapid is compatible with the Versa system
What Fusion Carry Case Kits are suitable for my Fusion Rapid System?
Please see the list below which shows the Carry Case Kit options suitable for the Fusion Rapid system, along with what components make up the kit:
Fusion Rapid (x1) / Fusion Versa (x1 and 2) Case Kit A
Fusion Post/Frame Bag (x3)
Comet Carry Case – Large (x1)
Fusion Base Bag for Oval Base (x1)
Fusion Rapid (x2) Case Kit C
Fusion Post/Frame Bag (x4)
Comet Carry Case – Large (x1)
Fusion Base Bag for Oval Base (x2)
Fusion Rapid (x3) Case Kit D
Fusion Post/Frame Bag (x5)
Comet Carry Case – Large (x2)
Fusion Base Bag for Oval Base (x2)