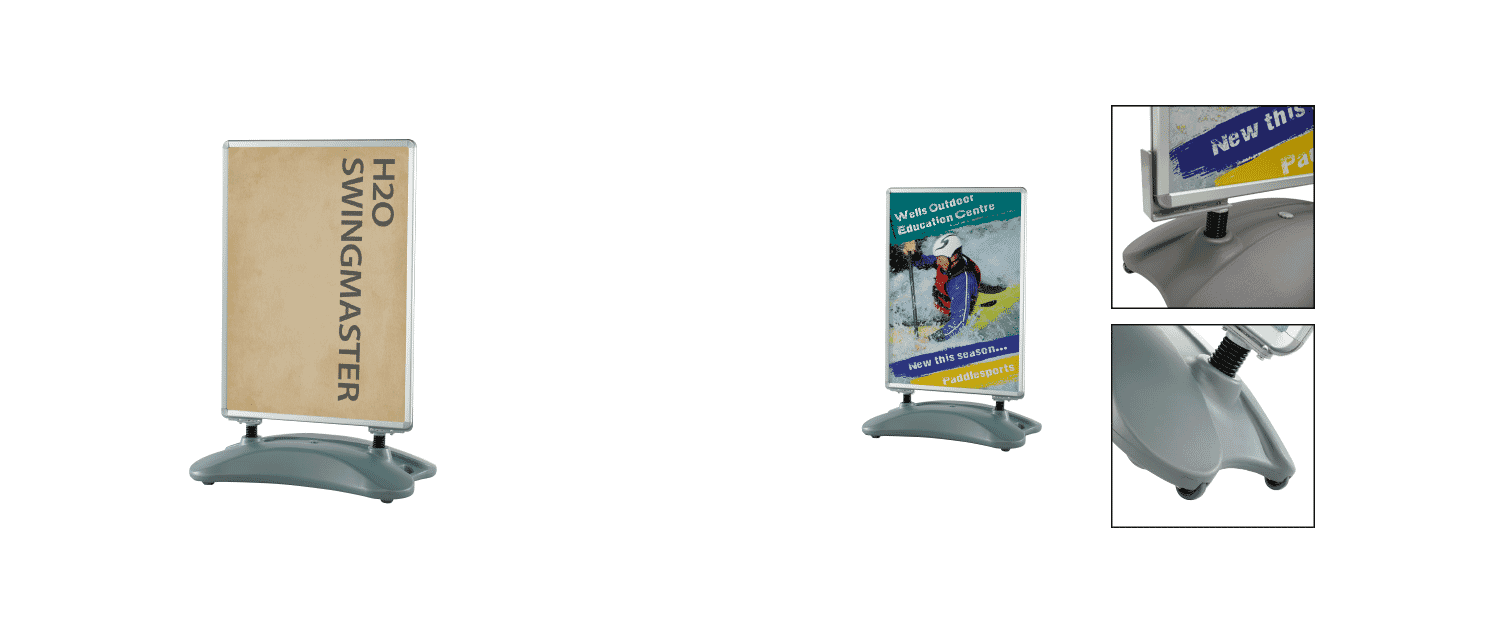 2
Spring action deflects in wind
3
Steel reinforced rounded corners
Double sided outdoor forecourt sign, available in two sizes, A0 and A1
Steel reinforced rounded corners
Posters are secured by 32mm aluminium snap frame profile
Comes complete with Anti-glare front cover (Please note due to the properties of this material it may slightly alter the colour reproduction of the poster)
Protective pads stop damage to underside of base
Quick and easy assembly, no tools required
Wheels in base allow unit to be manoeuvred into position
Water fillable base gives great stability even in adverse weather conditions
Base capacity; A1 – 26 litres and A0 – 50 litres
Base can be filled with water or sand to add extra stability
2 year warranty applies
Assembled size
A1 – 1150 (H) x 780 (W) x 500 (D) mm
A0 – 1530 (H) x 1030 (W) x 650 (D)mm
Assembled Weight
A1 – 41kg (with water)
A0 – 76kg (with water)
Finished size
A1 – 841 x 594mm
A0 – 1189 x 841mm
Visual area
A1 – 827 x 580mm
A0 – 1175 x 827mm
What are the panel sizes?
A1 – 841 x 594mm, visual area 827 x 580mm
A0 – 1189 x 841mm, visual area 1175 x 827mm
What is the base capacity?
A1 base capacity is 26 litres, A0 base capacity is 50 litres
Can you buy replacement acetate?
Yes replacement acetate is available to purchase
What wind speed can it withstand?