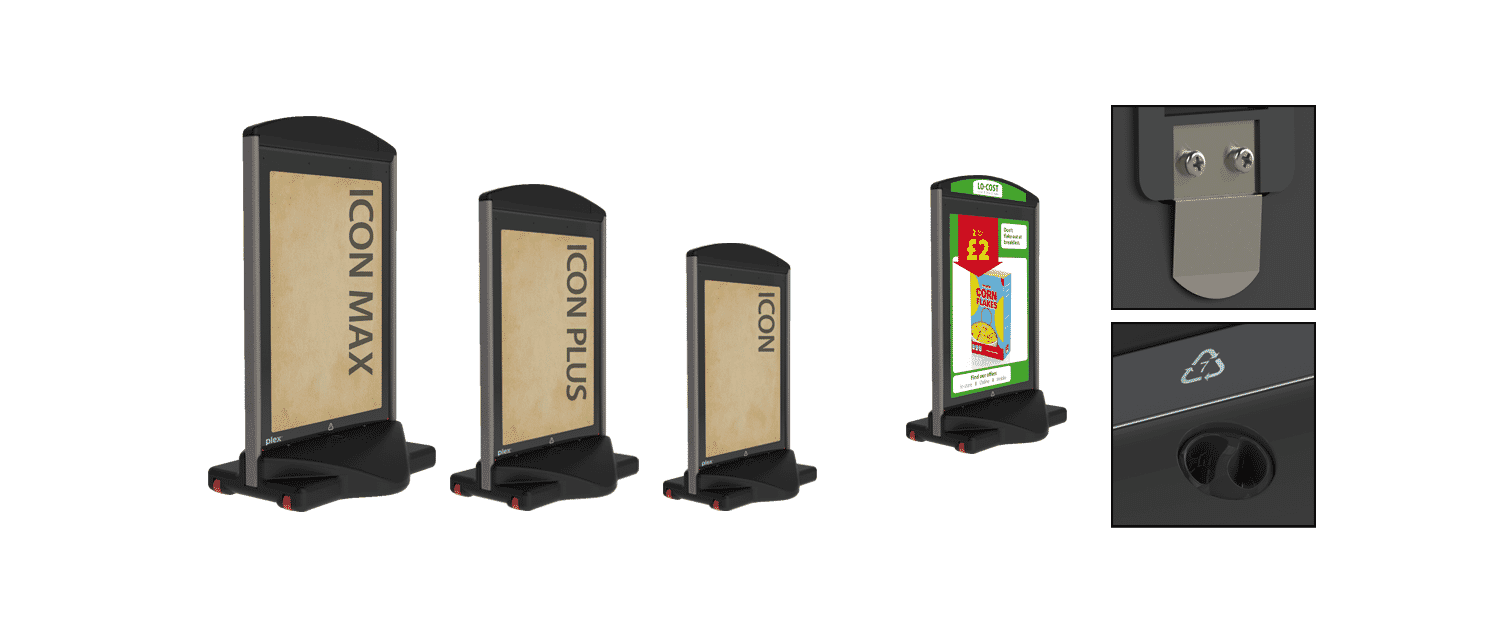 1
Polycarbonate cover protection
3
Wheeled base for manoeuvrability
4
Recessed area on header allows for extra branding
Double-sided heavy duty forecourt sign
Available in A1 and 60″ x 40″ poster sizes
Strong steel frame
Unique hinged magnetic poster pocket
Wheels in base allow unit to be manoeuvred into position
Recessed area on header allows for extra branding
Water fillable base
Optional Trolley available to manoeurve Icon Max when base is full.
Graphics Not Included
2 year warranty applies
Assembled Size
Icon A1 – 1215 (H) x 740 (W) x 610mm (D)
Icon Plus A0 – 1633 (H) x 986 (W) x 814 (D)mm
Icon Max – 2006 (H) x 1161 (W) x 1000 (D)mm
Assembled Weight
Icon A1 – 50kg
Icon Plus A0 – 102kg
Icon Max – 151kg
Finished size
Icon A1 – 841 x 594mm
Icon Plus A0 – 1189 x 841mm
Icon Max – 60″ x 40″ (1524 x 1016mm)
Visual area
Icon A1 – 814 x 577mm
Icon Plus A0 – 1162 x 824mm
Icon Max – 1497 x 999mm
What are the panel sizes?
Icon A1:
841 x 594mm, the visual area is 814 x 577mm
Icon Plus:
1189 x 841mm, the visual area is 1162 x 824mm
Icon Max:
60" x 40" (1524mm x 1016mm), the visual Area is 1497mm x 999mm
What is the base capacity?
Water fillable base, Icon A1 has a 30 litre capacity, Icon Plus 70 litre and Icon max a 108 litre capacity
Can the Icon be branded?
Yes, there is an inset space on the top header of all Icons where a suitable sourced vinyl graphic can be applied for branding, see the Icon Header Infill Sticker PDF in downloads on this page for the size of this.