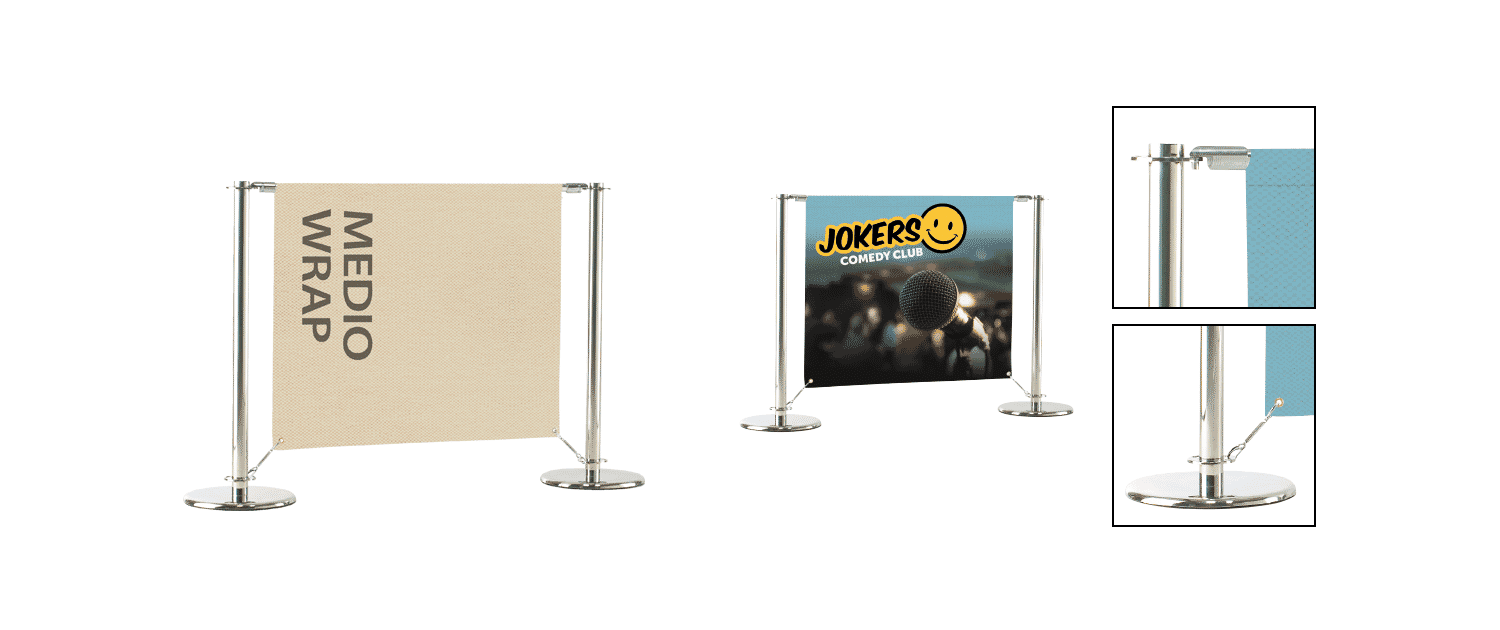 1
Graphics loop over the top cross arm
2
Stainless steel post and base – available in 10.5kg and 16kg options
3
Post and base 10.5kg combined weight
4
Spring clips keep graphic tension
Post & Base
10.5kg or 16kg post and base option available
Polished stainless steel post and rings
Polished stainless steel base cover
Wheelchair friendly low height base
Childproof blanking plugs included
Suitable for indoor use and outdoor use in sheltered areas
2 year warranty applies
Cross Arms
Three cross arm widths 1200, 1500 and 2000mm (post centres)
Powder coated cross arms with chrome ends
Loop graphics over the top cross arm
Strong, durable cross arm
Wall mounting bracket available
Graphics not included
2 year warranty applies
Finished size
950 x 1775/1275/975mm
[Please note – 100mm of graphic is folded over to create pole pocket]
Visual area
850 x 1775/1275/975mm
[100mm bleed at the top and the bottom for the loops]
What diameter is the post?
What is the post weight?
Two post weights are available. Standard 10.5Kg  and Heavy Duty 16Kg
Where are these recommended for use?
Standard 10.5Kg for indoor and sheltered outdoor use, heavy duty 16Kg for indoor and general outdoor use.
However with all Café Barrier systems you obviously need to respond to any adverse changes in weather conditions responsibly and remove them inside if appropriate.
What material is recommended?
Can the post and bases be purchased separately?